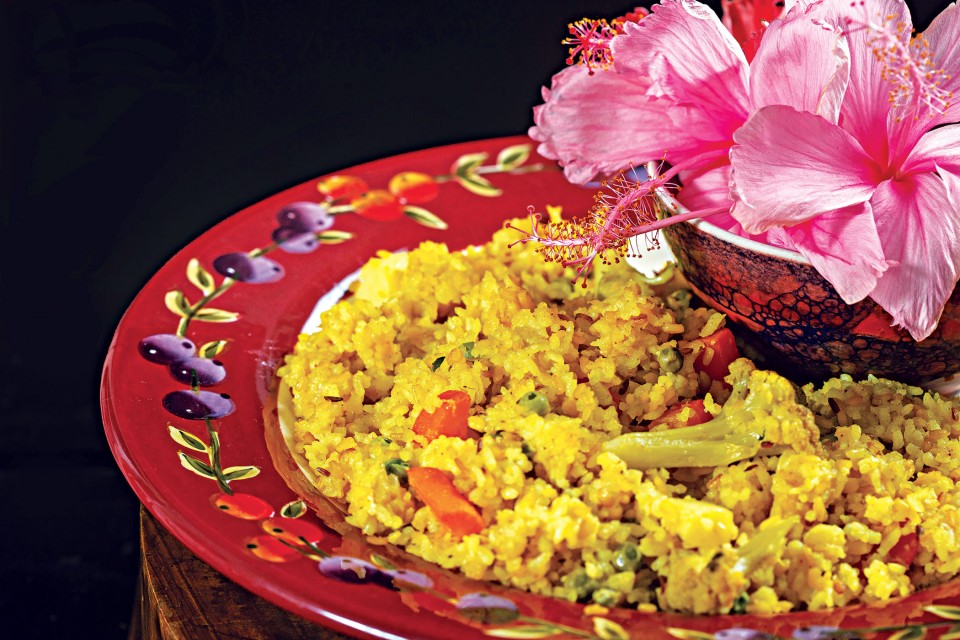 BHOGER KHICHURI
'Bhoger khichuri' is a traditional Bengali recipe that is prepared for the goddess Durga. After worshipping Durga, this dish is distributed as 'proshad.' This vegetarian bhog has no onions or garlic, but a lot of special spices and vegetables.
Ingredients
2 cup aromatic rice 2 cup moong dal 4 tbsp ghee 1-inch cinnamon 2 green cardamoms
4 cloves 2 bay leaves ½ tsp cumin seeds 1-inch grated ginger ½ tsp turmeric powder
12 tsp red chilli powder 1 pinch asafetida 2 small tomatoes, chopped 2 green chillies, chopped
2 cups of chopped mix vegetables like cauliflower, peas, potatoes and carrots
½ tsp sugar Salt to taste Water, as required
Method
Rinse and soak rice in water for 30 minutes. In a pan, slow roast the moong dal till the lentils turn light golden and aromatic. Keep on stirring to get uniform roasting and browning. When the lentils cool, rinse them in water. Sprinkle some water and keep aside.
Heat ghee in a pan. Fry the whole spices till they become aromatic. Add grated ginger and sauté for 5-6 seconds. Add turmeric, red chilli powder and asafoetida and sauté for 2-3 seconds. Then add the tomatoes and green chillies and cook until soft.
Add the mixed vegetables. Stir and sauté for a minute. Add the roasted moong dal, strained rice, and stir well. Pour water, salt and sugar. Stir and cook for 10 minutes with the lid on. Add green chillies. Stir again and cook on very low heat for another 10 minutes. When it is done, remove from heat. Sprinkle some ghee on top. Serve hot with begun bhaja or aloo bhaja.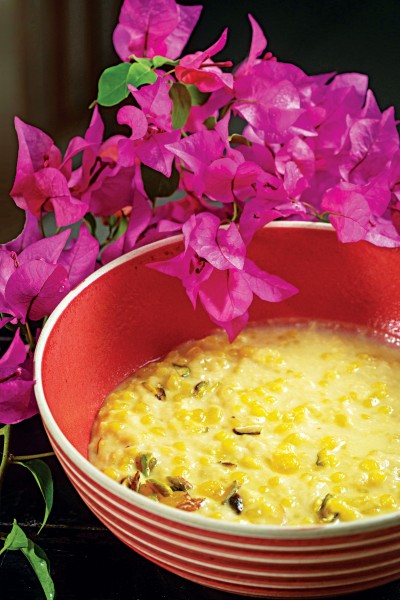 BUNDIYAR PAYESH
Ingredients
250g bundiya 1 litre milk ¼ cup powder milk
2 tbsp sugar 1 tbsp chopped almond
Method
Boil milk on low flame. Keep stirring for 20 minutes. Add powder milk and mix properly. Add sugar and mix well until sugar dissolves completely. Add the bundiya and boil for 2-3 minutes. Remove from heat. Garnish with the nuts. Serve hot or chilled.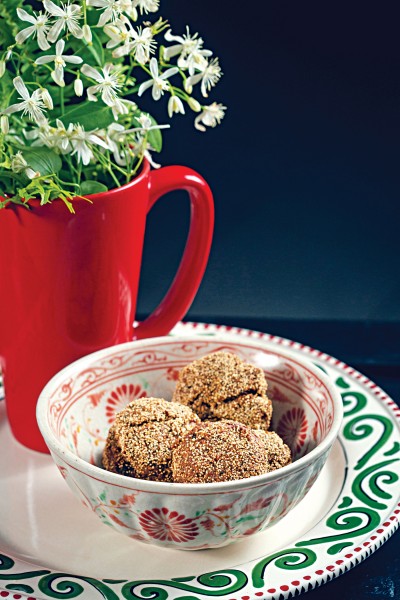 POSTOR BORA (POPPY SEEDS PAKORA)
Ingredients
½ cup poppy seed 2 tbsp poppy seeds, for coating 2 tbsp chopped onions
3-4 green chillies, finely chopped 3 tbsp grated coconut 2-3 tbsp rice flour
½ tsp ginger garlic paste Salt to taste Mustard oil for frying
½ cup warm water to soak poppy seeds
Method
Soak poppy seeds in water for half an hour. Drain the excess water with the help of a strainer and transfer it into the jar of a grinder. Grind the poppy seeds to a smooth paste. Add very little water, if required. Transfer the paste into a bowl. Add chopped onions, green chillies, coconut, salt ginger-garlic paste and rice flour one by one. Mix all the ingredients.
Collected.
Courtsey: Salina Parvin
Copyright © Sunnews24x7